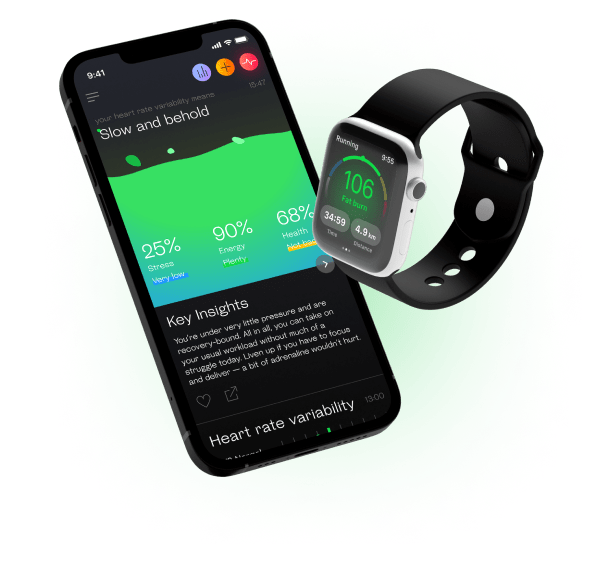 Experience transformative heart care through Welltory
The all-in-one app that combines state-of-the-art monitoring, personalized guidance, and actionable insights for optimal heart health
Why Welltory for Your Heart
Comprehensive heart health tracking
Welltory provides an all-inclusive platform to monitor your heart rate, variability, and stress levels with precision
Real-time feedback
Receive instant insights into your heart's performance during daily activities and exercise. Make immediate adjustments to your routine, enhancing your cardiovascular efficiency
Seamless integration with wearables
Welltory effortlessly syncs with popular fitness trackers and smartwatches, consolidating your heart health data in one place. Enjoy hassle-free compatibility and a streamlined experience for better cardiovascular care
Connect Apple
Health easily
Connect your wearable
Make sure Apple Health is enabled
as data source
Get Welltory and watch the magic
happen
We never sell your personal data or use it for advertising
What our users say
Fentod
Amazing App
This is the best app I've ever used for wellness both physical and emotional. It encourages me to use the breathe app on my Apple Watch more often and gives me a detailed analysis of my HRV, making it easier for me to assess my general state of readiness.
Wakabiki
Life Changing App
I came across Welltory at a very stressed time of life. It's empirical assessment, clear presentation and deep data and descriptions have been exactly what I need to understand where I am at physically and emotionally. I recommend this app for everyone wanting to find better balance and control of their life.
Vbiohacker
Great biofeedback app
Must say this is first review I've done due to the app truly being one of the best all round apps I've used. Have my Oura ring synced up, muse headband and fitness pal. Currently using the polar chest strap for measurements and recovering from several long term illnesses and chronic pain. It's really helped see what works and what doesn't for my own body. Thanks and keep up the great work
Alexandru Taga
Like it a lot
This is my first review for an IOS app, and this one made me write it, because I really like the general appearance, measurements seem to be close to reality, it is not invasive with commercials. That is the free version. I have seen that the pro has some more usefull in-depth details and options, although for me it has a price a bit too high. It seems nicer than the IOS health app. Very good job to developers.
Xekc
Know yourself
Best I could find for heart data feedback. I've got just one body, so using it well, coming into a good balance with the pressure of the world is important and I want to get better at it, this app app helps.
Try Welltory for Free
based on over 90,000 Stores reviews
Scan QR code
to get Welltory
app now
More about Welltory
Welltory puts you in control of your heart health through comprehensive monitoring and optimization
Welltory empowers you to take charge of your cardiovascular well-being by offering a platform that tracks and optimizes your heart health. By monitoring heart rate, variability, and stress levels, you'll gain insights into the impact of your daily activities and choices on your heart. Personalized recommendations and real-time feedback ensure you're making the most effective decisions for maintaining and improving heart performance.
Using Welltory leads to enhanced mental clarity and emotional balance, contributing to overall happiness
The benefits of Welltory extend beyond physical health; a healthier heart positively influences brain function and mood. As you prioritize your cardiovascular health with Welltory, you'll experience reduced stress, increased mental clarity, and better emotional balance. This improved mental well-being will help you navigate life's challenges and enjoy a happier, more fulfilling existence.
Frequently Asked Questions
How does Welltory monitor my heart health?
Welltory uses advanced algorithms to analyze data from your heart rate, heart rate variability, and stress levels, collected through integration with popular fitness trackers and smartwatches. This comprehensive monitoring allows you to track your cardiovascular health and make informed decisions to improve your heart's performance.
What kind of personalized recommendations does Welltory provide?
Welltory offers tailored guidance based on your unique heart health data. These personalized recommendations may include customized workout routines, nutrition plans, and stress management techniques, all designed to optimize your cardiovascular health and adapt to your specific needs and goals.
How can Welltory help me reduce stress and anxiety?
Welltory provides insights into your stress levels and suggests actionable steps to manage stress effectively. By improving your cardiovascular health and monitoring your stress response, you'll experience reduced stress and anxiety levels, leading to better mental clarity and emotional balance.
Is Welltory compatible with my fitness tracker or smartwatch?
Yes, Welltory is designed to seamlessly integrate with popular fitness trackers and smartwatches. This compatibility allows you to consolidate your heart health data in one place, offering a streamlined experience and making it easy to track your progress.
Can Welltory help me improve my exercise routine?
Absolutely! Welltory provides real-time feedback on your heart's performance during exercise, enabling you to make adjustments to your workout intensity, duration, and frequency. By using this data, you can create more effective exercise routines that directly target and improve your cardiovascular health.
Try Welltory for Free
The app is completely free with 5 days of Pro content included, no strings attached